River-Wave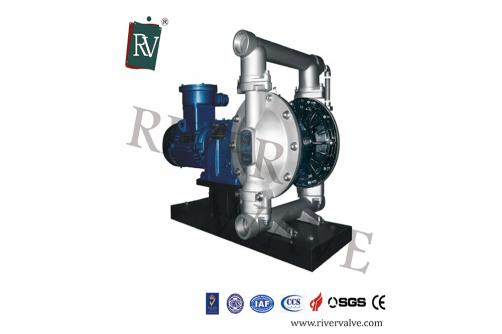 You can buy good quality RV40 Electric Diaphragm Pump, we are the best distributor from China market.
Feature
Parameter
Installation
Advantages of RV Electric Diaphragm Pump :
1.The motor of the RV electric diaphragm is the same brand as the motor of Siemens.
2.The RV electric diaphragm pump adopts imported bearing with cooper paint.
3.The gearbox driven by the gear has high output force.
4.The speed reducer and motor of the RV electric diaphragm pump are combined as one ,providing high efficient output .
5.Higher output and lower motor power achieve energy saving and environment protection .
6.The simple and reliable eccentric bearing driving mode is adopted.
7.Delivery lift is up to 40 m
8.The flow of the RV electric diaphragm pump is larger than that of the ordinary pump
9.The RV electric diaphragm pump is provided with the pressure protection device at the outlet to protect the pump body parts from being influenced by blocked running .
10.The ball of the pump has high roundness ,and the seat can be mutually exchanged .
11.The more reasonable design of arc ball chamber reduces the ball replacement frequency .
12.The handcart can be customized according to the demanding in the user field .
Size Parameter
| Model | L | L1 | H | D | D1 | D2 | W | H1 | H2 |
| --- | --- | --- | --- | --- | --- | --- | --- | --- | --- |
| RVD-25 | 310 | 900 | 430 | 700 | 620 | 400 | 500 | 175 | 88 |
| RVD-40 | 440 | 900 | 585 | 700 | 680 | 450 | 500 | 300 | 127 |
| RVD-50 | 465 | 960 | 843 | 840 | 780 | 500 | 600 | 455 | 137 |
Performance Parameter
Model
Flow Rate(m³/h)
(m)Suction Nlift
Head lift(m)
Max Pressure Psi (mpa)(kgf/cm²)
Motor Speed
Motor Capacity(KW)
Temperature(°C)
In Outlet Dimension(mm)
(DI)
(SST)
RVD-15
0.75
3
40
40
1420
0.55
90
150
1/2" Screw Thred
RVD-25
3.5
4
40
40
1420
1.5
90
150
1" Screw Thred
RVD-40
4.5
4
40
40
1420
2.2
90
150
1 1/2" Screw Thred
RVD-50
8
4.5
40
40
1420
2.2
90
150
50mm Screw Thred
RVD-80
16
5
40
35
1420
3
90
150
80mm Flange
RVD-100
20
5
50
35
1420
3.5
90
150
100mm Flange