River-Wave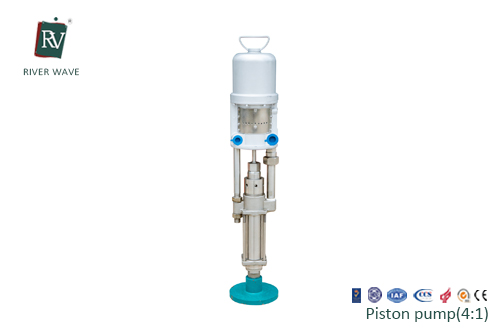 Quality Piston Pump(4:1) suppliers & exporter - all products made in China.
Feature
Parameter
Diagram
Installation
Products use:
In the paint,glue ,polyurethane coating automotive ,coating building coating ,oil transportation ,chemical food,pharmaceutical and other industries widely used ,is very suitable for viscous liquid ,corrosive liquid ,liquid containing solid particles or gas bubbles .A variety of materials ,adaptation of wide ,simple installation ,easy maintenance.
Products advantages:
1.after close of polishing and surface treatment of stainless steel surface,without damaging the material chemical.
2.Can handle a variety of high viscosity fluid ,strong corrosion resistance.
3.Less maintenance parts ,in the true sense to reduce the maintenance cost.
4.High mechanical life.
4:1 Piston pump
Technical Specifications
Max Working Pressure
120psi(0.84Mpa, 8.4bar)
Max flow rate
18gpm(208lpm)
Max .suction Lift
6m
Max Particle Allowed
3.0mm
Max Air Consumption
34scfm(0.817m³/min)
Air Inlet size
1/2in.npt(f)1/4in.bsp(f)
Fluid Inlet size
1-1/2in.npt(f)1/4in.bsp(f)
Fluid Outlet size
1in.npt(f)1/4in.bsp(f)
Connection Type
Female Thread /Flange
Body Material
SS304/SS316
Ratio
4:1