River-Wave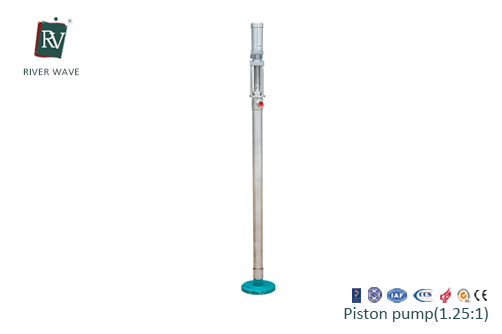 Before shipping , River-Wave'sPiston Pump(1.25:1) are packed with strong wooden case with waterproof cloth to avoid any damage.
Feature
Parameter
Diagram
Installation
RV Piston Pump uses reciprocating plunger to make fluid flow .I t can produce higher fluid pressure to carry a higher viscosity fluid ,and can be applied to arduous work and bad working conditions ,suitable for all kinds of fluid conveying ,circulation and extrusion process .According to the check valve quantity and shape .It can be divided into double -ball cylinder pump ,besides ,in accordance with the applicable fluid viscosity range and can be divided into low viscosity medium ,viscosity and high viscosity piston pump.
Pneumatic piston pump features:
1.Dealt with a 20000 centipoise fluid viscosity .
2.Various motors can be matched with the pumps of different materials ,to meet different flow range and pressure range.
3.Body material is 304 (316),seal materials are teflon and high molecular polymer.
4.Adjust pump outlet flow by controlling compressed air flow or water valve .
5.Auiomatically stop when the pump outlet obstruction or closing ,avoiding the waste .
6.Using high quality pneumatic moto
r ,long-term forced tight gap seal and new type of mechanism design ,can prolong the life of pump ,reduce faulf occurs,improve production efficiency ,reduce operating costs,ect.
7.Pump has strong self -priming capacity.
Corrosion resistant ,high temperature resistant and explosion-proof.Applications including petrochemical ,printing ,paint ,textile ,chemical ,food ,ect.
1.25:1 Piston Pump
Technical Specifications
Max Working Pressure
120psi(0.84Mpa ,8.4bar)
Max flow rate
14gpm(53lpm)
Max Suction lift
5m
Max Particle Allowed
2.5mm
Max .Air Consumption
34scfm(17L/s)
Air Inlet size
1/4in.npt(f)1/4in.bsp(f)
Fluid Inlet size
1-1/2in.npt(f)1/4in.bsp(f)
Fluid outlet size
3/4in.npt(f)1/4in.bsp(f)
Connection
Female Thread /Flange
Body Material
304、316
Ratio
1.25:1